Give Your Mental Health a Fresh Start
HealthyPlace Mental Health Newsletter
Here's what's happening on the HealthyPlace site this week:
----------------------------------------
advertisement
Have You Had ECT?
A major research survey is being run looking for consumer perspectives on, and experiences with, electroconvulsive therapy (ECT). This anonymous and short survey aims to show how consumers actually experience ECT. Add your voice to the conversation now.
-----------------------------------------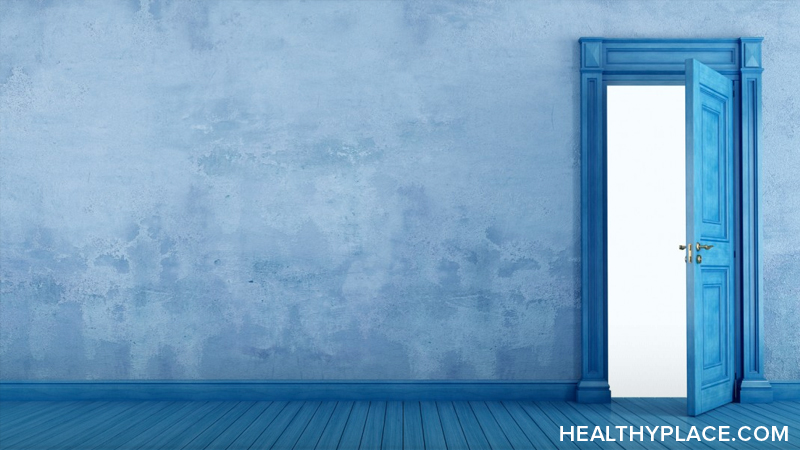 Give Your Mental Health a Fresh Start
You can give your mental health a fresh start, a change, any time you need it. We face many challenges in our lives; some come from our outer world of things and people, and some come from our inner world of thoughts, feelings, and neurological activity.
Whether struggles come from things outside of you or inside of you—or both—it's possible to give your mental health a new beginning (You Create Yourself). Your mental health is like sculpting clay. Its natural shape is beautiful because it's the shape of you. The challenges you face dent and twist the clay, seemingly damaging your mental health and wellbeing.
How to Give Your Mental Health a Fresh Start
Mental health, like clay, is malleable, resilient and can experience a fresh start at any time. Here are some ways to give your mental health a fresh start:
See each day as a new beginning to start fresh and shape it into what you envision.
Practice self-care; if you've been neglecting yourself, here's a great place for a new beginning.
Discover new interests and activities to give your mental health a fresh boost.
Massage negative thoughts and beliefs out of the clay, and create realistic new ones for a positive change.
Go ahead. Give your mental health a fresh start.
Related Articles Dealing With Giving Your Mental Health a Fresh Start
Your Thoughts
Today's Question: When you notice that you need a fresh start, a new beginning, a change, how do you go about making it happen? We invite you to participate by commenting and sharing your feelings, experiences and knowledge on the HealthyPlace Facebook page and on the HealthyPlace Google+ page.
---
---
Share our Stories
At the top and bottom of all our stories, you'll find social share buttons for Facebook, Google+, Twitter, Pinterest and other social sites. If you find a particular story, video, psychological test or other HealthyPlace feature helpful, there's a good chance others in need will too. Please share.
We also get many inquiries about our linking policy. If you have a website or blog, you can link to any page on the HealthyPlace website without asking us beforehand.
Most Popular HealthyPlace Articles Shared by Facebook Fans
Here are the top 3 mental health articles HealthyPlace Facebook fans are recommending you read:
If you're not already, I hope you'll join us/like us on Facebook too. There are a lot of wonderful, supportive people there.
------------------------------------------------------------------
From the HealthyPlace Mental Health Blogs
On all our blogs, your comments and observations are welcomed.
Feel free to share your thoughts and comments at the bottom of any blog post. And visit the mental health blogs homepage for the latest posts.
------------------------------------------------------------------
Stand Up for Mental Health
Thousands Have Joined the Stand Up for Mental Health Campaign
But we still need you. Let others know there's no shame in having depression, anxiety, bipolar disorder, trichotillomania, OCD, ADHD, schizophrenia or any other mental illness.
Join the Stand Up for Mental Health campaign. Put a button on your website or blog (buttons for family members, parents, mental health professionals and organizations too). We also have covers for Facebook, Twitter and Google+.
------------------------------------------------------------------
Latest Mental Health News
These stories and more are featured on our mental health news page:
Videogame Addiction: Sleep Loss, Obesity, And Cardiovascular Risk For Some Gamers
Smoking In Pregnancy And Overweight May Set Up Social Divide In Child Obesity Rates
Chemical In Marijuana Shows Promise In Treating Schizophrenia
BWH Researchers Find Evidence That Diet And Gut Microbes Can Remotely Influence Brain Inflammation
A Study On The Epigenetics Of Lactose Intolerance May Provide An Approach To Understanding Schizophrenia
Friends Better Than Morphine: Larger Social Networks Release More Pain-Killing Endorphin
Exercise Genes? Study Suggests Certain People With Depression May Benefit From Exercise
Mindfulness-Based Cognitive Therapy Linked To Reduced Depressive Relapse Risk
That's it for now. If you know of anyone who can benefit from this newsletter or the HealthyPlace.com site, I hope you'll pass this onto them. You can also share the newsletter on any social network (like facebook, stumbleupon, or digg) you belong to by clicking the links below. For updates throughout the week:
APA Reference
Peterson, T. (2016, June 3). Give Your Mental Health a Fresh Start, HealthyPlace. Retrieved on 2023, December 8 from https://www.healthyplace.com/other-info/mental-health-newsletter/give-your-mental-health-a-fresh-start
Last Updated: June 3, 2016