What if I'm Too Sick to Help Myself?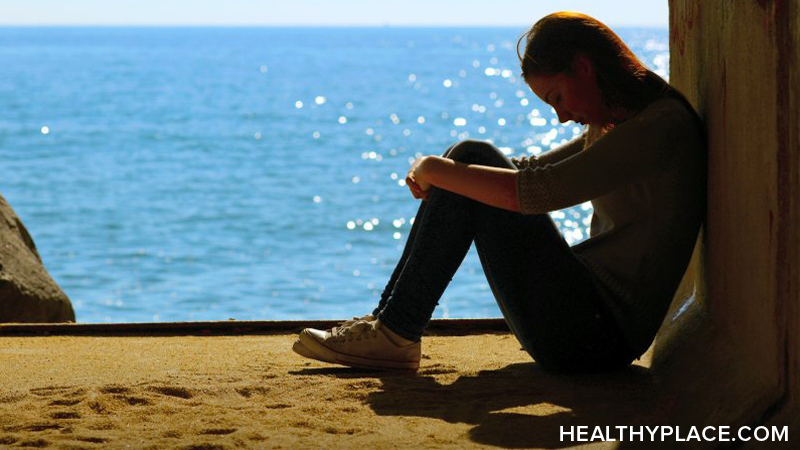 Being bipolar and feeling hopeless is not unusual. But there is hope, many do recover from bipolar disorder and manage their bipolar symptoms effectively.
Gold Standard for Treating Bipolar Disorder (part 24)
If you're well enough to read this web page, you're certainly well enough to start treating this illness comprehensively and successfully. The smallest steps can make a very large difference in how well bipolar disorder is managed.
Think over the content in this article and choose one or two areas you can change in your life right now that can help you get better. You may feel too sick to do these things, but feelings are not always reality as you know. You don't have to want to do something to get something done.
Will I be Sick Forever? I Feel Hopeless and am Not Sure What I Can Do!
It may be that you were just diagnosed with bipolar disorder and feel overwhelmed by the work it will take to manage this illness successfully. Or maybe you were diagnosed long ago but have never really been able to get the mood swings under control. It's very normal if you feel helpless and hopeless. Anyone with a serious illness goes through this. But things can and often do change. Once the shock wears off, you will be more able to say to yourself: This is a very serious illness and I'm scared I will never get better. But things have changed in the past years. Treatment is much more successful and the medical community is more aware of the ways that I can help myself get better.
There Really is Hope
Even the most severe mood swings can be treated effectively once the right combination of medications and complimentary treatments are found. It's true that this may take many years of trial and error and then a daily management of the mood swings, but it's worth it considering the alternatives. The good news is that once you use the ideas suggested on this web page, you have a much better chance of living a life of stability and joy.
Do I have a correct and thorough diagnosis?
Who can help me manage bipolar disorder effectively?
What is my optimum medications treatment?
What can I do to manage the illness comprehensively?
If reading information from a website can educate and offer this many tips for managing bipolar disorder, just imagine what you can do for yourself.
About the Author
Julie A. Fast is the best selling author of Take Charge of Bipolar Disorder: A Four-Step Plan for You and Your Loved Ones to Manage the Illness and Create Lasting Stability (Warner Wellness, 2006) , Loving Someone with Bipolar Disorder (New Harbinger, 2004), and the upcoming book Getting Things Done When You're Depressed (Alpha/Penguin, 2008). She is also a columnist for BP Magazine. She was diagnosed with rapid cycling Bipolar II in 1995 after years of struggling with the 'changes' she couldn't put a name to. The diagnosis answered questions but finding help that worked proved elusive until she decided to create her own treatment plan that combined medications she could tolerate with lifestyle and behavior changes and asking for help from the right people. Julie still experiences bipolar disorder mood swings regularly, but she has learned to manage them more effectively so that she can work and maintain stable relationships. Julie says, "I never thought I would be able to maintain a more stable life, but I have found that by using the ideas I write about on this web page that change is possible. I work at it every day, but I'm now able to work and maintain relationships to the best of my ability. You can do the same. It's not easy, but it's possible." You can read more about Julie and her work at www.juliefast.com and www.bipolarhappens.com.
Interview participants:
Dr. Peter Hauser, Chief of Psychiatry Service at the Portland, Oregon VA
Dr. Jim Phelps, M.D.Medical Director, PsychEducation.org/Co-Psych.com
Dr. John Preston, Professor of Psychology, California School of Professional Psychology at Alliant University
Dr. William Wilson, Professor, Department of Psychiatry Oregon Health and Science University
Recommended Books:
Take Charge of Bipolar Disorder: A Four-Step Plan for You and Your Loved Ones to Manage the Illness and Create Lasting Stability by Julie A. Fast and Dr. John Preston
Loving someone with Bipolar Disorder: Understanding and Helping Your Partner by Julie A. Fast and Dr. John Preston The Idiot's Guide to Managing Your Moods by Dr. John Preston Why Am I Still Depressed? Recognizing and Managing the Ups and Downs of Bipolar II and Soft Bipolar Disorder by Dr. Jim Phelps
The Bipolar Disorder Survival Guide: What You and Your Family Need to Know by David J. Miklowitz
Bipolar Disorder: A Guide for Patients and Families, by Francis Mark Mondimore
Feeling Good: The New Mood Therapy Revised and Updated by David D. Burns
Shock: The Healing Power of Electroconvulsive Therapy by Kitty Dukakis, Larry Tye
Out of the Black Hole: The Patient's Guide to Vagus Nerve Stimulation and Depression by Charles E., III Donovan, John M. Zajecka, and Nancy Williger
Information on medication treatment of bipolar disorder:
Click here to download Dr. John Preston's Quick Guide to Psychotropic Medication Treatment. This guide lists all of the current medications used to treat bipolar disorder.
Web References:
dbsa.org -- Depression and Bipolar Support Alliance
thebalancedmind.org -- The Balanced Mind Foundation
nami.org -- National Alliance on Mental Illness (800-950-6264)
juliefast.com Official website of article author Julie A. Fast
back to: Gold Standard for Treating Bipolar Disorder (part 1)
APA Reference
Fast, J. (2009, February 13). What if I'm Too Sick to Help Myself?, HealthyPlace. Retrieved on 2023, December 8 from https://www.healthyplace.com/bipolar-disorder/bipolar-treatment/recovering-from-bipolar-disorder-hopeless-and-hope-gsd
Last Updated: June 2, 2019