When A Close Friend Has A Mental Illness
Suggestions for coping more effectively when someone close to you has a mental illness.
Supporting Someone with Bipolar - For Family and Friends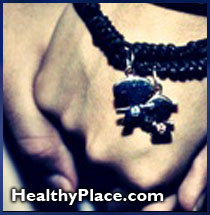 A friend of a person experiencing a mental illness may encounter common difficulties. Although situations differ, there are basic suggestions to help to facilitate a smoother adjustment.
Understand that behavior may change from day to day.
Learn as much as you can about the illness from mental health professionals.
Encourage the person to keep appointments with mental health professionals and to take medications as prescribed. This will help in stabilizing the illness.
Encourage the person to avoid alcohol and "street" drugs. These substances may interfere with the effectiveness of medications.
Be open and direct with the person when talking about the illness or treatment. Don't keep secrets.
Be a good listener. Open communication is good for everyone.
Do not be frightened by or hide the fact that someone you care for is mentally ill.
Be clear and firm that lying and violence are not acceptable ways to get needs met.
Remember that improvement takes time and may not be easy to see on a day-to-day basis.
Treat the person as an adult.
Avoid words like "never" and "always" when the person repeats past mistakes. Be positive.
Realize that criticism usually makes things more difficult
Remember that everyone makes mistakes.
Expect adult behavior and encourage self-reliance.
Point out with pleasure the small tings that the person does well.
Say clearly what you want from the person. Remember to be understanding.
Suggest to the person that personal appearance is important. Offer help if necessary.
Keep your promises so the person knows you can be counted on.
Take care of yourself. Eat, sleep, exercise and play. Consider joining a support group.
Relax and do your best. Avoid worrying that what you do will make the person worse.
next: Bipolar Disorder: Is It Ignored?
~ bipolar disorder library
~ all bipolar disorder articles
APA Reference
Staff, H. (2008, December 28). When A Close Friend Has A Mental Illness, HealthyPlace. Retrieved on 2023, November 29 from https://www.healthyplace.com/bipolar-disorder/articles/when-someone-close-to-you-has-a-mental-illness
Last Updated: April 7, 2017